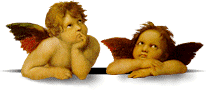 Want to be involved in the ministry of PaThLiGhT?
Here are five things you can do for PaThLiGhT:

1. Spread the light...er word about this site.

2. Send us comments or suggestions

3. become a 'Postee'

4. become a Trustee

5. Chat to me during AOL IM chat sessions..promise I'll be nice!

*What exactly is a Postee or Trustee?
A Postee is someone who posts prayers, a testimony or a photo.
A Trustee is someone who commits to praying for the Postees.
Pretty basic stuff right?
You can be a postee and a trustee if you want...but bear in mind..the idea is not to pray for yourself..but for someone else! ;)
To become a Postee or Trustee send us Mail! You're on the right page!