The Most important thing in my Life...God.
I became a Christian when I was about 10. I had been molested by our aboriginal neighbour and I felt so dirty and unworthy and that a bad girl like me could never be loved by a man or even by God. I was a little naive and figured all my problems would just go away now that I asked Jesus into my heart. The lovely lady who led me to the Lord (I used to play with her kids and I thought they were kinda weird) was a Charismatic and although I thought she was a little strange I listened to the way she talked about God and figured that's what I needed. I had grown up going to sunday school, but didn't understand until then that God was actually someone you could have a relationship with. She gave me a Bible which was all in cartoons and I loved it, especially the toon about moses and the red sea.
Anyway we moved to perth from carnarvon (in West Aussie's northwest) and the very next day My dad left us. You can imagine how difficult that was- although there had been bitter arguments of which my sisters and I were caught in the middle- often having to be the ones to intervene and stop the rows. We were a respectable middle class white family, that kind of thing-divorce- didn't happen! But my mum's best friend was attractive and hooked on sex and my mum wouldn't stand for infidelity so she gave my dad an ultimatum- his mistress or his family. So he left. After that I backslid for a rather long time, mostly due to the stigma associated with being from a low-socio ecomonic single parent family and the assumptions and stereotypes I had to fight against. I did some things I thought were beyond forgiveness- like crime and drugs. But when you are caught in a spiral the only way you can go is down and I came to realize I seriously needed God when I was about 16 after a 2nd suicide attempt failed and my depression was at its peak.
I was in the girls toilets at highschool sobbing my heart out because I thought there was no reason to live and I was trying to bleed myself to death by slashing my wrists. I actually went into shock as I started to bleed all over the floor and I felt the world spinning around me when I began to freak out and I screamed to God to the help me, because I didn't really want to die. At that moment I felt the most incredible peace that I have ever known, and the clear knowledge that Christ had died for me- and I mean ME. unloveable. Unfaithful. Unworthy. ME. And I knew with all my heart I wanted to be where that peace and love was and I wanted to know the God that peace and love came from.
It took a year or two to finally be rid of some of the major demons of my past, some I still have to battle, as most single parent kids do, but ever since I have loved being with God and waking up every morning knowing He loves me. I won't say its easy because being in a single-parent family never is and as I witness the results of that kind of upbringing in my siblings' lives (like the inability to committ to things or see them through, restlessness, fear of rejection) it makes me realize how lost so many young people in this world are. Luckily for us we had a church to support us, even when there was so much chaos going around in our heads and hearts God's love was always there standing by. And though it sounds strange, I thank God for giving me my past. Not the Pain and fear and rejection and tears, but the fact that HE alone was the one who could pick me out of that spiral and put me on a staircase going upwards- not because of anything I had done, but because of His Love. And what a Love that is!
"I'm so tired, I can't sleep
Standin' on the edge of something much too deep
It's funny how we feel so much but we cannot say a word
We are screaming inside, but we can't be heard...
...So afraid to love you, but more afraid to lose
Clinging to a past that doesn't let me choose
Once there was a darkness, a deep and endless night
You gave me everything you had, you gave me light."

~Sarah McLachlan, "I will Remember you"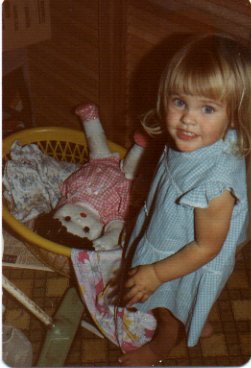 Me as a young'un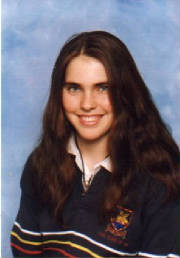 my 12th grade highschool picture
me and my sisters- always good posers!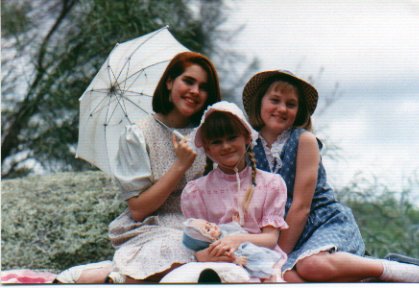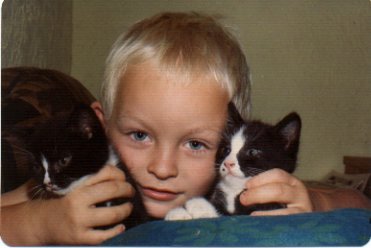 Malcolm- My brother who died when I was 3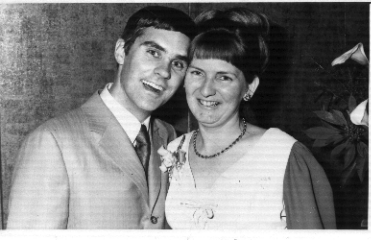 My folks in happier times- before they were married in 74